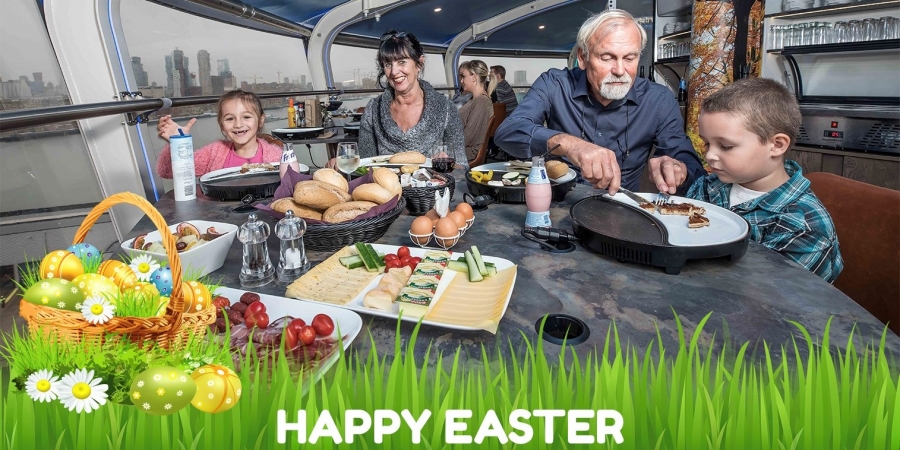 Come and enjoy an Easter breakfast on Sunday 12 or Monday 13 April with a beautiful view of Rotterdam.
On the table: croissants, hard and soft sandwiches, fruit salad, boiled eggs, egg salad, savory and sweet spreads, yogurt, including coffee, tea and fresh fruit juices. The breakfast flight takes 1.5 hours, so we land again at 11 a.m.
The adjusted Easter buffet is also available on Sunday 12 and Monday 13 April.
Buffet with: soup, croissants, hard and soft sandwiches, scrambled eggs, boiled eggs, savory and sweet fillings, smoked salmon fillet, egg salad, fresh fruit salad, yoghurt and drinks included. Each has its own grill plate on the table for baking: pancakes, stir-fry vegetables, rösti rounds, bacon and eggs.
The grill / gourmet buffet can only be booked for Sunday 12 April.
In 2 hours you can enjoy the panoramic view of Rotterdam. An impressive experience during your dinner.
We welcome you downstairs in our reception restaurant with daily fresh soup, after which we take you to the UfO for a delicious dinner.
With the Grill-gourmet arrangement, everyone has their own gourmet including plate. In the middle of the running UfO restaurant are buffet showcases. Here you can make an unlimited choice from various vegetarian or meat products.
Consumptions:
Including various soft drinks, juice, fristi, chocolate milk, beer and wine. For an additional fee you can order foreign spirits including whiskey, rum and vodka.
Dessert:
Before you go down, you can tell the service whether you want to enjoy a delicious dessert in the reception restaurant.
Information
Below you will find the information about our package and restaurant.
An entrance fee of € 10.00 per person is required for this attraction, so that you are sure of a seat in our restaurant. The entrance fee will be charged when booking online, the remaining amount can be paid on arrival in our reception area.
Parking
Parking at our parking area is FREE for visitors to the UfO Restaurant. We also have 3 parking spaces available for coaches.
To reserve
If you wish to make use of our packages in the revolving restaurant, we advise you to book in advance. You must be present 20 minutes in advance.
Do you not dare to dine at a height of 42 meters? No problem, we will gladly serve your dinner downstairs, for this you can contact our UfO team